To strengthen our commitment to become an ESG-centric company, we released our first standalone Sustainability Report, which presents an overview of GHL's efforts to address key environmental, social and governance issues.
In 2021, we launched our Sustainability Framework, towards becoming a more sustainable socially responsible company that embraces sustainability values across all our business practices, as we aim to become carbon-neutral by 2050.


We are committed towards enhancing our business model in accordance with our Sustainability Framework, with the aim to create, deliver, and capture value for all our stakeholders without depleting the natural, economic, and social capital that we rely on.
This is in line with our corporate commitments that address climate change, social injustice, and corporate governance, as a member of the CEO Action Network (CAN) and also in accordance with the United Nations Sustainable Development Goals (UNSDGs).
GHL Systems Berhad proudly adopts the following four SDGs to show the Group's commitment towards the Global Sustainability Agenda.
Industry, Innovation, and Infrastructure
Collaboration with Malaysian Digital Economic Corporation to share insights in the industry.
Introduction of
CARDit
programme, designed to expand credit card payment
options and thus improve cashflow in particular for Small and Medium Enterprises ("SMEs"), as well as individuals
Climate Action
Establishment of Climate Change & Risk Policy.
Collaboration with Econinja on Greening Malaysia Programme 2021-2025 through tree and coral reef planting

Transition to cloud computing to reduce operational carbon footprint

Installation of office solar panels for renewable energy generation
Peace, Justice, and Strong Institutions

Adoption of numerous ethics and integrity policies such as the Anti-Money Laundering Policy, Anti-Bribery and Corruption Policy and Whistleblowing Policy
Customer Due Diligence assessments conducted on all potential new customers by the Group's Risk Department

A robust Cyber security system and policies are in place to protect customer data
Our Sustainability Pillars
GHL's road map towards greater sustainability practices will take course through four key aspects - Corporate and Business Integrity, Customer Growth, Environmental Excellence, as well as Sustainable Workforce and Community, which lays down the foundation for our Sustainability Framework. We have identified and prioritised material sustainability matters that influence the way we operate and the importance towards our stakeholders under these four sustainability pillars.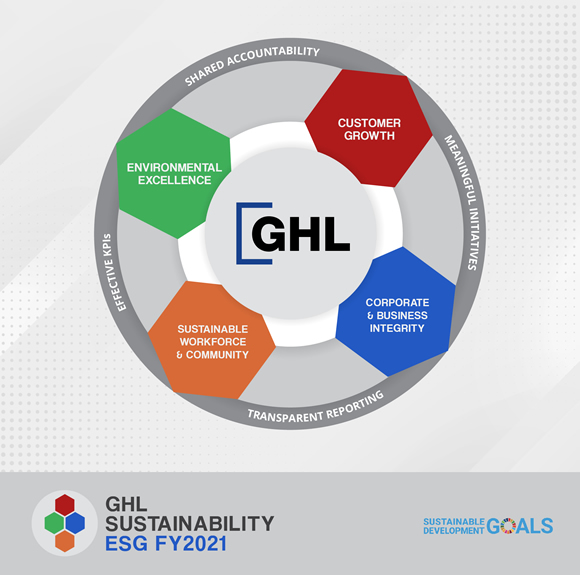 Sustainability Initiatives
Greening Malaysia Programme 2021-2025
We partnered with Econinja on the Greening Malaysia Programme 2021-2025 to sequester carbon through tree and coral reef planting. Approximately 300 trees and 50 m2 of coral reefs were planted in FY2021, with our offset performance tracked through Econinja.
We have begun installing photovoltaic solar panels on our office buildings to increase renewable energy generation and to decrease our reliance on grid electricity. Currently, this initiative is being piloted at our headquarters, and we hope to expand it across the Group in the coming years.
Watch the video here
CSR Campaigns
We exercise our corporate responsibility through collaboration with local non-governmental organisations ("NGOs") to address community needs. Our flagship programme "Support Our Merchants & Care for Community" is focused on raising donations to support GHL Merchants and local NGOs amidst the COVID-19 pandemic. The programme acts as CSR donation fund to purchase items from GHL-affiliated merchants who are affected by COVID-19.
Malaysia: AiYiDe Old Folks Home, Sunteck Handicapped Welfare Home, Pertubuhan Kebajikan Anak Yatim Mary, FRIM, and Woo & Meow Animal Shelter Organization
Thailand: Pankan by Yuvabadhana Foundation